This post is being updated regularly with current status, please check back.
Complete!  Posted!  Available!  Unbelievable!
Thanks again for your patience.
Poll results:  incognito/privacy mod is nice to have, but not critical.   As it turns out, Firefox does not yet implement what we need to be compatible with incognito mode, so this is a future wishlist item.
Documentation of the new feature is complete and available at:  BINSniper Sidebar Firefox Add-on for eBay    There may be some minor doc updates yet.  These docs were adapted from prior releases and there may be some changes needed to make sure they are current all the way thru.  This will be done on an on-going basis and does not impact the release.
Aside from scheduling and other time demands, the majority of issues delaying this were related to the WebExtension migration, which was more trouble than expected and required some workarounds.
Thank you for your patience.
---
The new edition is a streamlined version of prior releases designed to work well with the new requirements of Firefox and back to BINSniper's roots.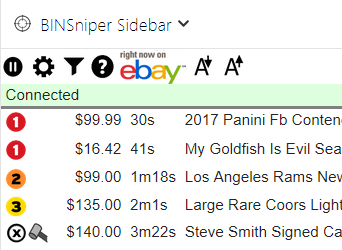 New priority based icons replace the stars and colors.
Sorting is simplified.
This release is focused on fixed price items and new auctions listed with Buy It Now.
Auctions w/ Best Offer are now supported.
New display modes
And more apps are coming…
Auctions are being moved to a separate web app that will be useful for auction buyers and for sellers to track their own auctions.
Mobile features are being moved to a separate mobile web version.
The streamer function, which is no longer supported by Firefox, is being moved to a separate web based version.
The supported prior releases will continue to work under older Firefox releases until our migration to these new apps are completed.  Uptime is our number one priority.