VieBuy.com is a monitoring tool to watch eBay for newly listed items in real time.  In this article, we'll focus on acquiring items for reselling items
High Activity Categories
By far the highest activity categories are smartphones and electronics.  Deals are constantly available as new eBay users sell off old equipment.  Discount lot sales are also sometimes available.  Because of the high demand these categories are monitored by many buyer, and competition is fierce.
High Value Categories
On the other side of the spectrum are high value categories such as industrial and business equipment.  Here you can find items that are more specialized and have a wide price range.  Liquidations, new old stock (NOS), and reclaimed equipment can be had at low prices and resold or used for your own purposes.
Markup on the low end
Probably the easiest way to get a decent markup, is to focus on low priced items.  This is where the Chinese market can be your friend.
Let's look at a current example: Tactical Pens.  A Tactical Pen can be used as a pen, or as an emergency tool for breaking windows.  If you've ever seen the movie Bourne Identity, you've also seen a pen used as a weapon.  This flexibility makes them legal to carry, but effective for other purposes.
For our purposes, we focus on resale.  Tactical pens are being sold out of the Chinese market on eBay US at auction for pennies in some cases.  These low end auctions are often under $2 with shipping included.
Pens sold out of the US market fetch around $6-10 at fixed price. Here are examples from the completed items page on eBay: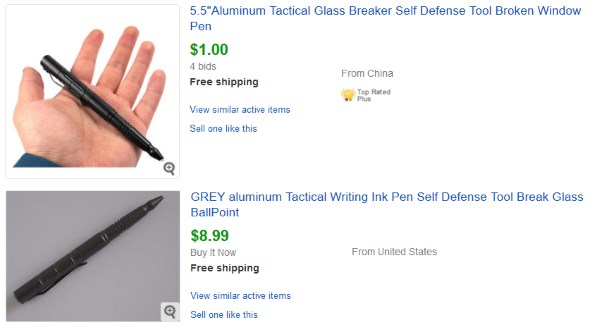 So by watching low end auctions, you can acquire these items individually at low price and low risk and resell them on eBay.  After eBay fees, free shipping, PayPal fees and packing materials, a $1 item can net you $4, a 300% profit.  With a constant stream of these items and other items with similar markup, you can have a steady income.
An important point to consider is the overall market for the items in question.  If you are buying items individually in a steady flow, risk is minimal, you can simply stop buying and you won't get stuck with inventory that you can't sell.  But you will want to sell as many as possible, as fast as possible, without waiting for a buyer to show up.  Focusing on items that have a large demand, like the tactical pens, helps insure that a steady market exists.
To determine the market, look in the eBay search results for live items. Multiple item listings display how many have sold as shown in this example.  2271 sold items shows demand for this type of item.  You have to look in live items because multiple quantity listing info like this does not appear in the completed items pages.

You should also pay attention to item details here.  The two earlier items from the complete items page are identical.  But the item with 2271 sold is somewhat different from the Chinese items.  While they are functionally similar, the differences can be significant for some items.  If you are buying individual items, you can test the resale performance of different types to determine how these differences impact your sales.
Chinese Sellers on eBay
Because the Chinese government sponsors the low cost e-Packet program, Chinese sellers do not have a high shipping cost associated with selling small packages into the US.  They can ship for nothing and compete with US sellers on lightweight packages, while the US sellers have to pay US package rates, currently at $2.60 and up.
This trade imbalance is good for US buyers, but very destructive to US small businesses.  But by buying in small quantity from the Chinese sellers using e-Packet, US small business resellers can leverage the Chinese advantage to their own end.
This also provides a service to US buyers who are not as worried about cost, but want items quick without the multiple-week shipping delays that can come with buying from China.
Buying in lots
Lot buying is often preferable.  You can usually get much better pricing on items by buying hundreds or thousaads at once.  Simply add the word lot to your keyword search to find lots.  You may want to do some price filtering as well, because small sellers sometimes use "lot" to describe two or three pieces.
The advantage that Chinese sellers have with small packages disappears with heavy packages and lot orders may not come with free shipping out of China.
The free freight-in shipping advantage that the continuous small purchase approach has will be harder to find with large lots, but the price discounts usually make shipping charges less important.
Lot buying also minimizes the amount of time you have to spend bidding, paying, and handling materials.  It's also easier to list items when they are all the same.
Off-eBay sales
Another big factor is arbitrage – buying on one market and selling in another.   While we already addressed buying from China to resell in the US, there's also the approach of buying on eBay and selling in other online marketplaces (Amazon, Etsy, Craigslist, etc).
Online buyers usually prefer one market or the other and it isn't uncommon for price to vary between markets.  You can choose the market that gives you the best profit.  Each market comes with it's own issues.  Some are more time consuming, some have unreliable buyers, and some are specialized.  You can test selling in other markets to determine what works best for your item.  It may be that eBay is the best place for both buying and selling.