Overview
WatcherX is a free online price comparison site for mobile and desktop browsers. It works with any modern browser on any platform. You can compare prices online using your mobile or desktop device.
Visit the watcherx.com website to give it a try.
Scan Now, Buy Later™
If you see a product while out shopping in brick and mortar stores, you can scan it, get an immediate price comparison, and save it to your watch list. Armed with the best price information, you can buy it online, or in-store if the price is right.  So if you want to do some research online, you have a list of low priced places to start.
The WatcherX Advantage
One watch list for all your devices and the major online buying sites.
Sellers can't see you watching items. Your watch won't influence sale prices or best offer acceptance.
Buyers can't see you watching items. Your watch won't attract more buyers to bid against you.
Unlike some eBay buying tools, there's no need to login to eBay to check your watches. Because no login is required, you can login or out of eBay whenever you like and even use one watch list with multiple eBay accounts. Whatever account is open in your browser is the one WatcherX will use.
You can choose which international eBay site to use for purchases. Any item on any eBay site can be bought from a single site. (Subject to shipping availability)
Alert times are adjustable. Set early warnings and last minute alerts.
Customized sounds alert you in real-time when an item is approaching its end time. You can change sounds to customize the alerts. Even add long running sounds to get your attention
Compare WatcherX vs Auction-Sniping programs
WatcherX is more secure than auto-bid sniper programs because it doesn't need your eBay or Amazon passwords to watch items.
WatcherX doesn't place bids for you, it just helps you get there on time. All bidding takes place thru your normal eBay interface.
You aren't forced to bid last minute, you can bid any time you like.
Searching for items – with keywords or barcodes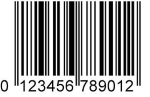 Most products have a Universal Product Code or International (European) Article Number barcode, The number at the bottom of the barcode uniquely identifies the product. To search for a product you can:
type in the name of the product
type in the 12/13 digit number at the bottom of the barcode
scan it with a compatible mobile device barcode scanner app (more on that later)
Items, Products, and Watches
WatcherX organizes items into two groups:  search results and the watch list. Both screens display items in a similar format.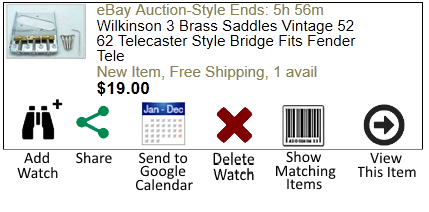 The UPC barcode code icon appears in the listings when an item includes a UPC/EAN code. Click on the icon and you'll see more items that match that code. A photo of the product is displayed at the top of the comparison screen and a button allowing you to save this product to the watch list.
Items are stored in the watch list in two forms: single items, and products. Single items display the right arrow to view the item on the merchant site. Product listings show the UPC code icon instead. You can click that icon to display all matches from merchant sites.
Single items are best suited to one of a kind items and for watching specific results. When you click on the view button for Amazon items, you will be taken to the Amazon product page for that item where you can see all the available items in price order.  When clicking a view button for eBay or other vendors, you will get the individual listing or product page. The item pages may also show similar items. These are typically newer versions, or bundles that include the product.
Searching

The more specific your search the more accurate the results. The most accurate search method is the UPC/EAN code. The least accurate is usually a single keyword.  For best results, use the UPC/EAN code or three or more keywords if possible (e.g. "iphone 5s case" instead or "case")
Settings and Help

Settings can be accessed by clicking the help/gear icon. You can select the country to search, which items to display, enable sync between devices and enable alerts.
Help is accessed thru the same page. You can view a quick help screen suited for mobile use, or the full documentation (this page).
Barcode scanning (Android and iOS)

Barcodes can be scanned using third party apps on Android and Apple mobile devices. You must have a camera and the scanner app to scan barcodes. When you are using an Android or iOS device, the barcode scanner icon will appear at the top of the page.
Sharing Links
WatcherX is designed so that your search terms appear in the address bar of your browser (in the URL). This allows you to bookmark or share any search. The sharing button shows a quick list of share options, or you can share using your browser's built in options.
To share an item, select the share icon in the search results or watch screen.
When you share a product that has a barcode  the results page will show the current list of matching items. The item you selected (if any) will be highlighted if it is still available.
Bookmarking
On desktop computers, a handy way to add many bookmarks without cluttering up your bookmark area, is to use bookmark folders. Right click in between two links on your bookmark area and select New Folder or Add Folder.  Name the folder WatcherX and create it. Now you can drag the current page link from the address bar (drag the globe) to the WatcherX folder. Your bookmarks will appear in a drop down list.

eBay Auction-Style Listings
eBay offers auction-style listings . WatcherX displays auctions at the bottom of the results. Items are sorted by price.
When an item is ending soon, the item heading will show the time remaining in dark red.
Auction-style listings that have an immediate purchase (Buy-It-Now) option are also listed in the fixed price sections of the results, with the buy price shown. When no bids have been placed or none meet the reserve price, you can buy an item immediately at the fixed price.
Auction bid prices are periodically updated. If you want to bid on an item that is ending soon, click the arrow in the item listing and go to the vendor site where you can see up-to-the-second pricing.
Auction search results tend to be spread out over time when you do specific searches. When you search for broad terms, you'll mostly see items ending soon. Search for specific terms or UPC/EAN code to see more results.
If you are a seller tracking your own listings, be aware that WatcherX has some tracking features that are useful to sellers, but is by design a buying tool.
Auction Alerts
WatcherX supports countdowns and alerts so that you can monitor auctions that are ending. Visual and aubile alerts are displayed when auctions reach a time limit you choose. Alarms sound every 5 seconds and maybe be silenced when they start by clicking the Cancel Alarm button. This button appears at the top of the screen when an alarm is played.
To enable audible alerts, check "Enable Sound" in the Settings (click the gear icon). The audio and vibrate features require your brower to be open and running to receive alerts. Use the calendar option for auction alerts when you aren't running your browser (see the next section). On desktops, you can run more than one instance of WatcherX at a time, but you will receive duplicate alerts from each instance.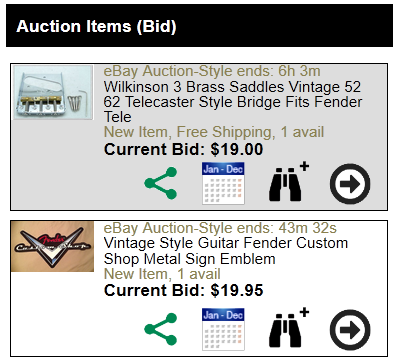 Auction Reminders and Mobile Alerts Using Google Calendar
WatcherX can also create events for eBay auctions in your Google Calendar. From there you can sync to all your devices. If you don't already have a Google Calendar, you can create a free account at www.google.com/calendar/m
The calendar icon appears in Auction-style listings. Click the icon to send the listing to Google Calendar. There you will have the option to adjust the calendar entry and save it.
Most apps will display the URL as a clickable link you can use to open WatcherX. On the Google Calendar site, you may be in edit mode by default, so the link may not be clickable. You can copy and paste the URL to your browser, but using a calendar widget on the start menu or another calendar app to view the events will be easier.
Events sync to your mobile and desktop devices that are configured for Google Calendar. On your mobile, configure your calendar app to sync with your Google Calendar. This works with a variety of calendar apps across most mobile and desktop platforms. Your browser does not need to remain on to receive the mobile alerts on mobile devices, but you do need to have alerting turned on in your calendar app and the app may need to be running in the background on your device.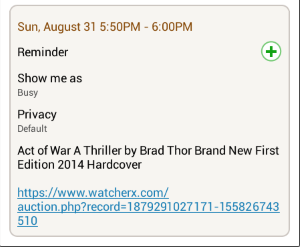 See your calendar app's documentation for specific instructions on setting up sync and audible/vibration reminders for calendar events. Some apps may require you to enable the reminder (as shown here from the Samsung SPlanner app). There are multiple calendaring apps available on most platforms, so a different app may have more features.
The calendar option only appears for auctions. For other items, just click the View button in the Watches tab to see the item at any time.
System Requirements
WatcherX needs a modern browser that supports the features used by the site. This includes Firefox (30+), Chrome (27+), Internet Explorer (10+), Opera (23+), and Safari(5.1+), iOS Safari Mobile(6.1+), Android (2.3+), Chrome for Android(36+). Opera Mini 7 is not supported.
The vibration feature is enabled in the Settings display if your browser supports it. Your hardware must also support it. For example, Chrome on a Windows PC supports vibration, but desktop computers don't usually have a vibration mechanism. If your mobile device supports vibration, but your browser doesn't, switching to a different mobile browser may let you use the feature.
Sound features require sound capability. This is assumed, so your browser and device must both support sound.
Internet access is required to use the site.
Requirements for Mobile Barcode Scanning
For barcode scanning on a mobile device, you need a built-in camera and a free third party app. WatcherX currently supports two barcode scanner apps. The barcode icon will appear when you are using an Android or iOS device. You must have the third party app installed to use the feature.
On Android: Load the Zxing barcode scanner for Android
On Apple iPod, iPhone, iPad: Load the Pic2Shop for iOS
On Kindle Fire HD: Try the Android link above or download the ZXing barcode scanner APK (App) file direct from ZXing Project. To do this, you must allow third party application installs in your device settings when prompted. If you have another app that support web intents (i.e. can be opened via URL, and returns the barcode via URL), please let us know and we may be able to integrate it.
Troubleshooting – Barcode focusing problems:
If you have trouble scanning because you can't focus close enough to scan a barcode, it is probably a limitation of your camera. Many mobile device cameras used fixed-focus lenses designed for general use. These lenses have trouble focusing very close-up.  It's also possible that the mobile browser does not support auto-focusing on your device.
Support for camera focusing varies with browsers, so a different browser may perform better on your device. In some cases, zooming may help.
An easy work-around is available in the form of an added macro lens.  The simple clip-on lens attaches to the phone or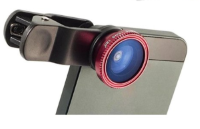 tablet and positions an adaptor lens over the camera. This magnifies and brings barcodes into focus so that the scanner can recognize them. This is a useful tool that can be easily added and removed.
They are typically priced under US $10. We recommend the universal clip-on lenses that can be used with any device so that it can be used with multiple devices and probably on your next device.
Troubleshooting – Screen Size
WatcherX dynamically adjusts to your screen size. The site has been tested with a variety of devices and sizes. If the item display seems too wide for your screen, try double tapping text on the page. This should reset the display to the base size and resize the page elements. If you have compatibility issues with a particular device, please post a comment on this page.
Troubleshooting – Reset to defaults
If you want to reset your settings, you can clear cookies and localStorage to remove the website settings. If your settings become corrupted, go to the WatcherX help page and click the Clear Settings button at the bottom of the page.
Troubleshooting – Insecure content
Item images are loaded from merchant sites. In many cases, these images are not available via secure connections (for performance reasons). You can ignore this warning if it appears in your browser. Only product images are affected. All other content is loaded via encrypted sites. If your browser has an option/popup to allow images to be loaded, you should select Allow for watcherx.com
Troubleshooting – Mobile redirects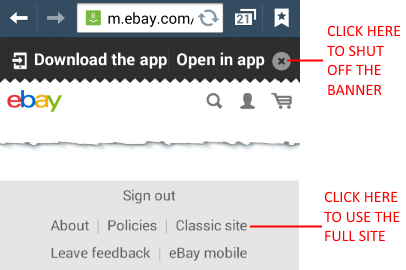 Each merchant has their own way of dealing with mobile traffic. eBay and Amazon both have mobile optimized websites.  Mobile support varies with other vendors. If you come across an item page that is unfriendly to mobile devices, you can save the item to your watch list and access it later from a desktop computer.
eBay's handling of mobile traffic is the source of many complaints. The promotes their mobile app to Android users by displaying a banner on every mobile web page. To dismiss the banner, click the circle X icon. It should not appear on subsequent pages. WatcherX is not compatible with the eBay standalone app.
The eBay site also forces most mobile devices to the mobile version of the site. This version is well suited to mobile phones, but for tablets, the classic site is generally preferred.  You can override the eBay redirection by selecting "Classic site" at the bottom of the mobile pages.  Subsequent pages should load on the classic site. Another approach is to use a mobile browser such as Firefox and change the settings for UserAgent to mimic a desktop computer.
At times there is a link available on the eBay classic site to change back to mobile pages. But as with many eBay features, it regularly disappears. If the link does not appear on the eBay pages, you can try to visit http://m.ebay.com to reinstate the mobile pages. But it may be necessary to delete your cookies to reinstate the mobile site as your default.
Please be aware that we cannot control the vendors' websites.
Troubleshooting – Removing WatcherX
WatcherX uses a minimal amount of storage in your browser's local storage. (less than 1kb per watch)
Troubleshooting – Removing WatcherX from DropBox.com
WatcherX support for Dropbox.com sync has been removed due to lack of interest.  If you want to remove data stored in Dropbox.com prior to Aug 2016,  login to Dropbox.com, select your username at the top of the page, then settings. At the bottom of the page is a list of authorized Apps. Find WatcherX and click the X at the right.
v1.0 22 Sep 2014
v1.3 06 Mar 2015
v1.4 01 Aug 2016
Visit the watcherx.com website to give it a try.