BINSniper Sidebar Browser Extension (webextension add-on) has been uploaded to Mozilla Add-ons and is now available.    This new edition is a streamlined version of prior releases designed to work well with the new requirements of Firefox and back to BINSniper's roots.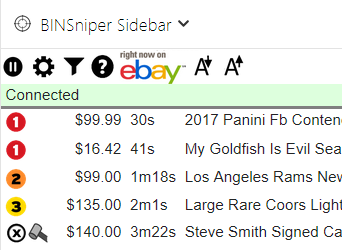 Documentation:   BINSniper Sidebar Firefox Add-on for eBay
Add-on page:  https://addons.mozilla.org/en-US/firefox/addon/binsniper-sidebar-for-ebay/
You can also install approved versions thru the Firefox menu: Tools->Addons and then search for BINSniper.
Thank you for your patience.
---
New priority based icons replace the stars and colors.
Sorting is simplified.
This release is focused on fixed price items and new auctions listed with Buy It Now.
Auctions w/ Best Offer are now supported.
New display modes
And more apps are coming…
Auctions are being moved to a separate web app that will be useful for auction buyers and for sellers to track their own auctions.
Mobile features are being moved to a separate mobile web version.
The streamer function, which is no longer supported by Firefox, is being moved to a separate web based version.
The supported prior legacy add-on releases will continue to work under older Firefox releases until our migration to these new apps are completed.  Uptime is our number one priority.